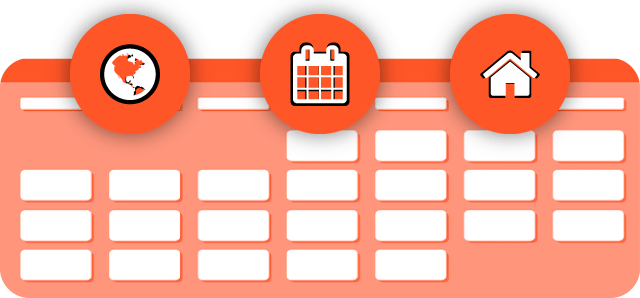 When booking your timeshare, you may encounter a few different terms that will describe the different types of reservations which you can utilize. After understanding the different bookings you can make with your Club Points, you will be able to take the vacations that are most conducive to your personal travel habits, while maximizing the benefits your Hilton ownership provides you.
Home Week Reservations
A home week reservation is defined as a reservation in which the owner books at the precise location, season, and unit size which they initially purchased. Home week reservations allow the owner to book in advance way to utilize your ownership and does not involve basic variations as the information has already been initially provided for you.
Club Reservations
Club reservations allow you to reserve at any HGVC location within the club's affiliated resorts, as opposed to only traveling to your home resort. This flexibility is beneficial in the event you choose to travel to a new destination. With club reservations, there is a required three-night minimum stay, so it will be a benefit primarily for longer vacation plans.
Open Season Reservations
Open Season reservations are beneficial for more spontaneous or last minute travel planning. These allow you to make reservations starting 30 days before your check-out date and up to a day prior to your actual check-in date. This carries with it a two-night minimum stay requirement, with RCI resorts needing a three-night minimum stay.
Home Week
Club
Open Season
Date Range:
12 months – 9 months
9 months – 1 Day
30 – 1 Days
Resort Available:
Home Resort
Only
Any Resort
Any Resort
Length of Stay:

Full Week Stay

3 Night Stay Minimum
2 Nights Stay Minimum
Cost:
Full Year's Club Points
View Points
Charts
Cash Only
Changeable Reservations
Making a changeable reservations simply allows you to change reservation dates within the same calendar year, the size and type of your unit, as well as the location and length of your stay without incurring any additional fees.
In the event your change in reservation equals or exceeds the amount of points required for your stay, you will have the freedom to make adjustments up to your check-in date. However, in the event the reservation in change decreases the total amount of points needed for your stay, you will have a 31 day window prior to your check-in date to make changes without incurring fees or penalties.
Continue Reading:
Regardless of your travel habits, HGVC will have a distinct reservation type that caters to you. Keeping these varying options in mind will assist you both with your current booking routine and in the event you choose to change your habits in the future. If you have any additional questions regarding the different types of reservation methods available to you, feel free to contact us to speak with a licensed agent.