Timeshare resort clubs generally consist of multiple purpose-built vacation properties that have been incorporated into one reservation network for the use of many different owners. You may have heard of the popular name brand vacation resort clubs like Hilton Grand Vacations Club (HGVC), WorldMark by Wyndham, Disney Vacations Club or Marriott Vacation Club International. These vacation clubs are comprised of some of the most luxurious vacation accommodations available. In this article, we will look at exactly what these resorts offer when compared to hotels.
How Do Hotels Compare to Resort Clubs?
Resort clubs generally offer an experience much closer to the comforts of your home. Many vacation ownership condos feature full kitchens, in-suite laundry facilites, up to 3 separate bedrooms for extra privacy and much more. For the more health-conscious of you, a kitchen complete with all spices and cooking utensils will help you vacation healthier.
To get the equivalent of this at a hotel, you would have to pay upwards of $180.00 per night, and timeshare maintenance fees can go as low as $80.00 per night, and even cheaper with programs such as Hilton's Open Season and WorldMark's Bonus Time.
Not only are the in-suite accommodations better, but many timeshare club resorts will feature on-property attractions such as huge centerpiece pools, hot tubs, lazy rivers, on-site bars / restaurants, arcades / game room and much more. Some resorts even carry a theme, such as the Aztec / Mayan recreation that is Monarch Grand Vacation's The Cancun in Las Vegas, Nevada.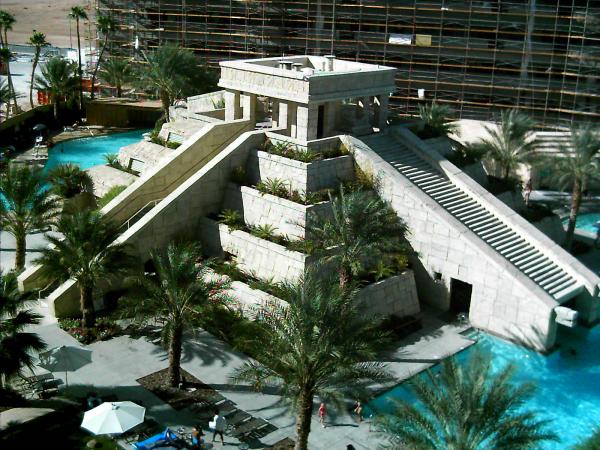 Are Vacation Clubs Really Cheaper Than Hotels?
Yes! That's the best part about resort clubs, they offer a cheaper way to travel! You can read all about the reasons why someone would buy a timeshare here, and view the actual equations under reason #1 of that article.
How Do They Work?
In the old days of timeshares you were stuck to 1 specific resort, and 1 specific week number for the entire time you own the account. Pretty boring, right? Can you imagine only vacationing to one place at one time for the rest of your life?!
Thankfully, many modern timeshares have adopted a much more flexible approach. They offer points-based reservation systems. This allows for many resorts to be linked together to form a vacation network or vacation club where owners can book at each other's resorts without having to involve a third party trading company like RCI or Interval International. Also, owners of point-based vacation clubs are usually allowed to book whenever they want, as long as a room is available. Even multiple weekend trips are possible, as you don't have to travel one week at a time.
Do People Really Buy Timeshares?
Yes! Timeshares may be more popular than you think. It's estimated that over 1 million people in the U.S. currently own timeshares, and even in this economy, the public will buy millions of dollars of timeshares each year. In 2011, Ernest and Young's study of the industry showed a stable timeshare market, with sales of vacation ownerships seeing a slight increase from the previous year, while nearly 80 percent of owners continued to travel to their timeshare destination.