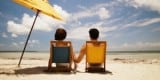 Owning a resale timeshare comes with many benefits. In this article, we'll be reviewing some of the basic benefits you'll receive as the owner of a timeshare.
Owning A Resale Timeshare is Cost Effective
It may seem expensive, but buying a resale timeshare can be a great way to save money while vacationing with your family. The upfront cost is buying a resale account is considerably less when compared to buying from a presentation. Timeshare developers spend enormous amounts of money trying to draw in buyers and those costs are reflected in the initial cost of the ownership at the presentation. With a low upfront cost and yearly maintenance fees, the rate of return over time is going to favor the resale timeshare, even over hotels in many cases.
Most timeshare rooms are going to be equipped with more amenities such as a full kitchen and dining room. With the ability to prepare meals in the room, your family is going to save hundreds of dollars on dining out at restaurants. When you go to book your trip, you won't need to have a lot of cash on hand since you've already paid your yearly maintenance fees. Not having the stress of budgeting before or after a vacation can be very gratifying.
Ownership Perks
After purchasing your resale timeshare, you will have a vacation plan for a lifetime and beyond. Timeshare can be willed to your family, just like you owned a cabin or beach house.
If your family is not going to travel one year or you don't want to use all of your booking time, you have the option of renting one or more of your weeks to someone else. This way you can make back some or all of the money on your maintenance fees. There are many safe ways or renting out your timeshare weeks to someone.
Unlike a cabin in the mountains or a beach house, you can have a place to vacation all over the world through either owning a points-based ownership or utilizing a timeshare exchange company
with your deeded week. Using RCI, II or SFX, you can exchange your week or points for reservations at thousands of the affiliated resorts across the globe. Instead of traveling to the same place year in and year out, you can bounce around to different locations each year or exchange a highly desired week in for multiple weeks at other locations. The only limit is your imagination!
Timeshare ownership can be one of the best purchases a family can make. Having so much flexibility in booking, makes buying a resale timeshare a great option. If you would like a free consultation about the possibilities of owning a resale timeshare, feel free to contact us.