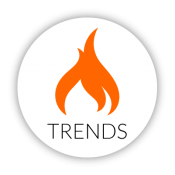 The vacation ownership model attracts new owners for one reason: vacation ownerships simply offer more of the accommodations that travelers want, so timeshares are able to meet the individual's needs that a hotel simply cannot. The travel industry will continue to be molded by the needs of the travelers. In this article, we'll be taking a look at the top trends in hopes of revealing what's around the bend for travelers in future resort development.
High-Tech Travel Will Attract A New Generation of Owners
It's estimated that the new generation of travelers, referred to as Millennials, are now the largest segment of the US population, command an estimated $200 billion in buying power, and have a long life of travel ahead of them. This fact alone make this market segment an important play for resort developers, and young travelers are demanding delightful experiences that can only be brought about through high-technology.
According to Stan Earnshaw, VP of Sales & Marketing of PointCentral, 86% of Millennials are willing to pay more to stay in a vacation property outfitted with smart home technology than one without it compared to 65% of Baby Boomers. "The affinity that Millennials have for Smart Home technology represents a huge opportunity for vacation rental managers," says Earnshaw.
We've already seen the Disney Vacation Club embrace this view with their magic band technology, which allows visitors to enter the parks, unlock their room and buy food and merchandise with a wrist band the employs near field communication technology. More and more in the future, resort developers will be offering unique experiences leveraging the power of technology.
Diet and Lifestyle Will Be Further Embraced
Many timeshare owners love the fact that they have a full kitchen in which to prepare their meals. For travelers with dietary restrictions, due to health or moral reasons, it's simply not acceptable to eat out for every meal.
When speaking demographics, according to a recent ARDA study on timeshare ownership, 36% of timeshare owners purchased their property to save on future vacations, over 51% of owners have a child under 18, and over 72% of owners possess a college degree. We're speaking about a highly-educated group of people who choose to plan ahead, and are trying to build memories with their children. A healthy lifestyle, as well as diet, and the basis of achieving this status and aspirations.
We predict the marketing of timeshares to reflect this more and more, and as more resorts are renovated or built, a focus on family-oriented physical activities will become more pronounced. We already see many resorts featuring world-class golfing, which has historically been a market niche of timeshares, but we wouldn't be surprised to see more development to get the whole family involved.
Large Name-Brand Timeshares Will Continue to Be Increasingly Favored
There are so many reasons to choose a name-brand timeshare from a developer such as Hilton, Disney, Marriott or Wyndham, but in this last year alone we've seen multiple hurricanes, wildfires, earthquakes, and many more unpredictable calamities.
Owners of these large clubs, which offer many different resorts in a vacation network, are the least susceptible to owners losing all use of their ownership. I can't imagine the headache of owning a deeded week at Resort X in the Florida Keys when Irma hit. If the resort is damaged, you could be looking at paying a special assessment fee, and be unable to travel to the resort for the length of the rebuilding process.
Thankfully if you own a points-based ownership, and one resort is damaged, you would still be able to travel to the many other resorts within your network. This is just one reason, among many others, why we predict the majority of new owners to select from the top name-brand ownerships for their first purchase.
What Are Your Travel Needs?
As we mentioned in the beginning, the timeshare industry has been quick to respond to the needs of the traveler to stay relevant. It really is up to us as owners to vote with our dollars, and select the right vacation club for us. With that said, if you're looking to purchase your first ownership, we would be happy to offer you a free consultation with a Licensed Real Estate agent that can help guide you toward the club that best fits your needs. Feel free to click the button below, fill in a contact form, and we will have an agent reach out to you to provide additional information.