As part of our commitment to amass the most knowledge on WorldMark timeshares and the resorts that comprise them, we will be traveling to the resorts and sharing our experiences with a review of the timeshare properties and surrounding areas. We hope to give you as many tools as possible for using your WorldMark ownership, while getting reservations for as cheap as possible.
---
The Location
The WorldMark Canadian in Vancouver is simply an amazing resort in an amazing city. This high-rise towers above the clean and safe-feeling streets of Vancouver offering some of the most enthralling views of the city that can be had. The resort is situated smack-dab in the middle of downtown (between the Yaletown and Robson districts), and is close to many markets, shops, and wonderfully tasty restaurants that range from almost-too-good-to-be-true cheap, to extremely expensive and date-worthy. The location really is ideal as you are a short walk to almost everything, and thankfully Vancouver's grid-like layout offers easy navigation to newcomers and wanderers alike.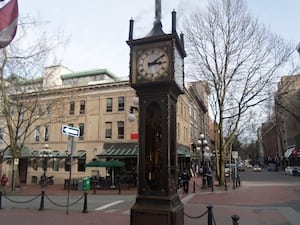 This reviewer was simply amazed at the care that has obviously gone into building this city and maintaining its many districts. Vancouver is special not because of its size and stunning architectural craftsmanship (every where you look you will find street side sculptures, embellishments, and artistic nuances rippling through the city), but its really how clean and friendly this place can be that will impress you. There were many times that locals had offered to take pictures for us, happily gave us directions, and even just said a friendly "Hello" as our paths crossed. This city will welcome you with arms wide open, so what are you waiting for?
---
The Resort
The resort is a mixed-use building, meaning floors 19-24 are reserved just for WorldMark owners, and the rest of the building is used to sell as condos and other purposes. Due to the fact that the unit you will receive is high off the ground, street noise is at a minimum, and the views are really something to talk about.
---
The Unit
We booked a 2-bedroom unit which offered all the basic necessities that are lacking in hotels, such as an in-unit washer and dryer, full kitchen (including spices, pots and pans, a blender, cutlery, etc.). The living room had a big couch, the beds were comfortable, and the bathrooms were huge and heated. This really reminds you that timeshares offer the most comfortable way to travel, making you feel more at home throughout your stay.
The unit featured granite counter tops, full glass exterior walls, and was very clean and orderly upon arrival. The Canadian really makes you feel that you are using a luxury vacation product, and is sure to impress anyone who is lucky enough to tag along. The staff was very friendly and helpful, it was easy to see why so many good things are said about the Canadian culture.
---
The Cost
This will be my favorite part of the review. Because we booked this room with bonus time, we paid just under $58.00 (US), for the night. Now we could have taken our $58.00 to a nearby hotel, but we would've had to pay more just to go without a kitchen or 2 separate bedrooms with 2 separate bathrooms. This was an amazing deal, that was only possible by owning a WorldMark by Wyndham ownership, and was made much cheaper by buying a WorldMark resale. This allowed us to spend more of our hard-earned dollars on seeing the city, taking a breath-taking boat-plane tour, and eating at some of the best restaurants in town.
---