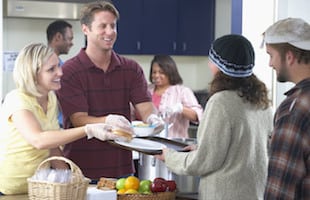 When purchasing into a timeshare ownership, there are many important considerations and benefits to take into account. However, one of the features that does not commonly come up is how you are able to use your timeshare ownership to help others, sometimes referred to as Philanthropic travel. This isn't necessarily something conducive to vacationing, but it can be a uniquely rewarding experience that allows those with the luxury of owning a timeshare to give to the resort area's local community. Within this article, we'll discuss how you can budget your vacation time to have a healthy split between personal getaway and creating unforgettable opportunities for others around you.
How Can I Volunteer on Vacation?
There are a variety of ways that you are able to reach out while on vacation. Many organizations such as Habitat for Humanity allow outreach programs across a variety of areas, so you are able to check with the local area and confirm which charitable organizations are available for you to participate. One of the most notable charitable organizations is Operation Gratitude, who are known for utilizing care packages to send to a variety of people in need such as deployed troops, veterans and those in need of disaster relief.
You are able to both participate in their various charitable programs or simply donate to their cause to allow them to continue operating. This way you are able to reach out even when not on vacation.
A large amount of communities local to your resort destination may have areas which are in need of assistance and can benefit from those who choose to lend a helping hand during their annual getaway. There are ways to still enjoy both your relaxation time and also reach out to the community, by designating a day or two during your week-long stay to provide some form of outreach to the area. This allows a healthy balance between enjoying your stay at the resort and taking time to benefit the surrounding area and it's residents.
Additionally, some may find that they will want to separate their vacation time from their volunteering time altogether. You may also split up your vacation time, or even borrow points from your following use year in order to afford booking multiple trips during your current use year in order to spend a trip fully enjoying your vacation and another to dedicate solely to local volunteer work.
Philanthropic Travel With HGVC
One of the best ways to try and get involved in the future is to take advantage of Hilton Grand Vacation's own Travel with Purpose volunteer program. This program is based out of the Parc Soleil resort location in Orlando, Florida, and it allows owners to partake in philanthropic work which has been made fun and enjoyable for travelers of all ages to assist in bettering the local community.
Their Paracord Survival Bracelet program, like Operation Gratitude, is aimed at assisting active duty military servicemen and women. Their Kids Camp programs are a progressive volunteer program aimed at allowing young travelers to do their part in improving the lives of others, by engaging them in various activities such as preparing emergency kits for local families as well as participate in environmental preservation projects which can better the area's own natural resources.
You can even commit to helping the community simply by visiting the resort's cafe and purchasing a drink. Hilton Grand Vacation Club has also incorporated this program into Cafe Soleil, Parc Soleil's poolside bar and grill. You are able to purchase their new signature cocktail, titled the Charity Chiller, which will in turn support the Travel with Purpose program. For each individual Charity Chiller purchase, Hilton Grand Vacation Club will donate $3 per drink which will contribute to creating and continuing new and innovative ways for owners and their families to support the Orlando community. There is also a non-alcoholic version of the Charity Chiller which is offered, so that those who don't partake or those who are not of age can also support and enjoy the refreshing new drink.
Are There Additional Benefits for Volunteers?
This is also an important question that for timeshare owners to be asking. The feeling of providing others with assistance or opportunities is highly rewarding, but having tangible results for yourself to take away is also a strong factor for many to continue to commit to reaching out during their hard-earned vacation time.
When operating through a charitable organization, you are able to use that as a tax deduction, so it is good to keep any documentation regarding your philanthropic endeavors during your trip. These can be a residual benefit for you personally and can continue to incentivise participating in charity work in the future.
Additionally, the Travel with Purpose program has worked to create volunteer programs which incorporate a unique perspective to allow the outreach work to be both beneficial and extremely enjoyable for all ages. This allows you to still enjoy a true vacation feeling while simultaneously benefiting those around you.
Understanding how volunteering on vacation and philanthropic travel can benefit yourself as well as the people around you is one of the most worthwhile facets of avid traveling and can be an incredibly enriching experience. If you have any questions regarding how you can better utilize your timeshare ownership for philanthropic travel, feel free to contact us at http://www.sellingtimeshares.net/contact/.