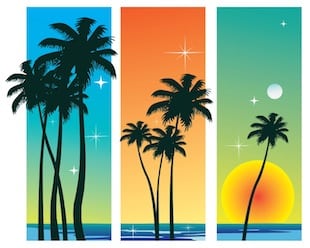 Buying a vacation ownership online can be a big investment. All the research that can be done on the internet and talking to people does not replace visiting a location and getting the feel for what it is like to stay there. Whether you are buying a resale or retail, it is important to know what you are buying. Common options are to use timeshare presentations at a specific location to get a cheap trip there, visiting the location through the location's general hotel rooms, or there is the option of renting from a timeshare owner. Each has their own benefits and drawbacks.
Try Before You Buy
Timeshare presentations can be a good way to get a discounted or possibly free stay at a timeshare resort. Unfortunately, you may not get everything you want. Many brands will put you in a nearby hotel that is significantly cheaper than the resort and then bring you onto the property for the presentations. Although you will be able to see the property including the surrounding area and view rooms, you won't get the feel of staying in the room, sleeping in the bed or what the customer service is like, as a guest. This can be the most cost effective ways to get into a property, but try before you buy may not be totally applicable. There is also the presentation to think about. These high pressure sales pitches can possibly convince you to buy on the spot whether or not it is a good fit for you. This can negate the inexpensive cost of the trip due to the inflated prices of retail.
Timeshare Rental
Rentals can give you an insight to the timeshare community. There are a variety of rental websites that assist potential renters connect with owners looking to rent their week, but it is always suggested to contact a licensed broker to oversee the transaction.
Renting can be a great way to view the timeshare villas/rooms in an up-close and personal fashion. Renting gives you the timeshare feel without spending a couple thousand dollars on a property that you may or may not want to stay at again. There is also the potential of getting a great deal on a whole week instead of paying full price. One thing to remember is to be aware of scams. It can be very easy to tricked into giving the money up front and then your rental being changed into someone else's name. This is why it may just be easier to deal with a company that has a license and reputation to lose, it is the surest way of keeping yourself safe. Calling the hotel and confirming the reservation as well as getting a rental agreement are all very good ideas. None of these are foolproof but they will help keep you from getting cheated.
The Changes of the Season
When renting a timeshare or going to a presentation, you may not be going during the time of year that you are considering for purchasing a timeshare. Seasons are rated differently based on desirability. An example would be a Tahoe resort. During the winter, it is a world class ski location but during the spring and summer snow is minimal, if any. When you are looking to rent, you can pick the exact week or days you want to visit. This may be more costly but you'll know exactly what you will be getting if you purchase at that resort timeshare.
Be sure to do plenty of research to find out what type of visitation will work best for you, and if you have any remaining questions, feel free to contact us for more information.