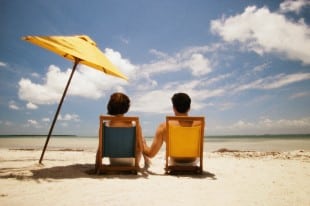 One of the greatest things about timeshare ownership is that it's versatile enough to not just be useful for families that like to vacation together, but for many styles of traveling. The following top five romantic timeshare destinations are a great way to spend a week away with your special someone. Rekindle your love or discover someone new, either way a romantic getaway at one of these five spots will be sure to set the right tone.
HGVC Eagle's Nest Beach Resort
This Hilton property has won national accolades for the design and beauty. Located on the south-west tip of Florida, Marco Island is just a day trip from Miami or the Keys. The beautiful Gulf of Mexico is just a stroll down the boardwalk from the property but with so much to do on site, you and your better half can stay on-site the entire week and want for nothing.
HGVC South Beach
Located in the heart of Miami, this is a more urban getaway for a couple looking to get away. Surrounded by so many different neighborhoods and cultures, there is a vast array of attractions and things to do. With the high-end shopping and elegant fine dining, there will be plenty of chances to pop the question or just enjoy one another's company.
Hilton Kings' Land
Nothing says romance like an island getaway. Hilton's Kings' Land is the perfect example of a romantic week alone. The combination of the old Hawaiian feel with modern luxuries gives this property a unique feel. If you want to relax together in the hot tub, relax on the beach or go explore picturesque waterfalls; you have all these adventures at your finger tips.
Marriott Village d'Ile-de-France
When you think of the most romantic city in the world, chances are you are going to think of Paris, France. Located just outside of Paris, this Marriott property has easy access to Paris but also near the French countryside. With magical forests and picturesque views nearby and the most romantic city within arms reach, this French destination will delight and please your significant other.
Marriott's MountainSide
Dreaming of a white Christmas with the love of your life? Perhaps a cuddling up to a cozy fire is what the doctor ordered. Park City, Utah is home to Marriott's MountainSide resort. Reconnect and get closer during your stay at this beautiful mountain town property. With so many cultural activities and snow sports, there will be plenty to do. The Wasatch Mountains are the perfect backdrop to any romantic getaway.
So, what do you think of having your own private villa at your favorite romantic destination? Contact us and let us know what you think!