Here at Selling Timeshare Inc., our business is helping individuals and families travel around the globe. Traveling can be a rewarding and life enriching experience, but if someone steals your identity, that can tarnish an otherwise amazing trip. We have taken great efforts to help educate our customers and fellow timeshare owners, so everyone can enjoy their timeshare vacations as much as possible. To help keep you safe from identity fraud, we have compiled a list of tips for protecting your identity while you travel.
Travel Itinerary
Before you set off for your vacation, be sure to leave your itinerary with one or more individuals that you trust. Leaving your travel schedule as well as contact information of hotels, and other places you will be visiting, can keep you safe in case of a medical emergency or identity fraud. If your bank accounts are compromised or passports are taken, your emergency contacts back home will have a way to get ahold of you and send money, if need be.
Use Your Safe
Most rooms will have a safe available for guest use. It is a good idea to keep any identification and valuables inside the safe when you are not using them. The code on your safe can be changed so you don't have to worry about forgetting it or someone already knowing the code to your room's safe. Small items that fit into your safe can easily be kept away from anyone who might be in your room.
Check Please
If you are going to bill anything to your room, it's best to keep a low profile about it. This is one of the easiest ways for something to steal your identity. If a person knows the last name on the room and your room number, they can bill their own meals to you without you knowing until it's too late. If you are going to bill anything to your room, only write it down for your server, if you can help it. If you must say it out loud, be as quiet as you possibly can so as few people can over hear you as possible.
Passport Safety
Keeping your passport safe is very important, especially when traveling abroad. Losing your passport or getting it stolen can cause great difficulty in returning home. For a majority of the time, during your trip, you will not need your passport. So it is a good idea to keep it in your room safe. If there is no room safe, the resort safe is another good option. The resort safe will be less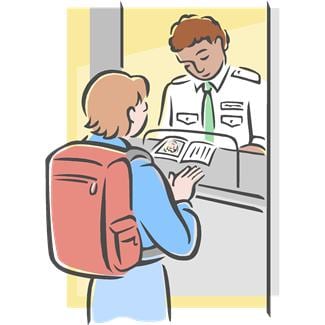 convenient for accessing your belongings but will be much safer than leaving them unsecured in your room.
However, things happen that are out of our control and being prepared could save your trip from becoming a disaster. If you do make a copy of your passport, keep it separated from your real passport. The purpose is to have a backup, in case something happens to your passport. The copy will help you gain access to a US Embassy to leave the country or get a replacement. The copied version can also help you get outside the country. Keep the copied version with you, as you enjoy your vacation and keep your real passport at the resort, locked up. In addition to having a copy on your person, it may be wise to scan a copy of your passport and send it to yourself via email. This way, you have access to it wherever there is internet access and a computer.
Take That To The Bank
Identity fraud is an unpleasant experience when you are safely at home, but when you are on the road, it can be a downright nightmare. Credit cards and bank accounts can fall victim to thieves and possibly leave you without access to your money. During your travels, be sure to keep a copy of your bank's phone number. If there is fraudulent activity on your account or your cards are stolen, you can contact your bank quickly and ensure that the rest of your money is safe. Although cell phones have internet access now, you may be left without a wireless device and need to contact your bank via landline. So keep a copy of your bank's number on hand, and the international code, if you are traveling outside of your country.
While you are at it, write down your account numbers too. This will speed up the process of shutting down your accounts and cancelling cards. You can also use this information at a branch, to withdraw money, so that you may continue your vacation. Add your account numbers and bank's contact information in the email of the scanned picture of your passport. If you are traveling outside of your country, you may want to see if your bank has any affiliate branches near where you are traveling. These branches can act as your home bank and assist you in recovering your accounts and pulling out cash.
Final Thoughts
We hope that these safe travel tips will help you protect yourself from identity fraud and save you a few headaches along the way. Chances are, your trip will go off without a hitch, but being prepared for the worst doesn't hurt. If you have any questions about timeshare travel safety or would like to find out where you can travel using a timeshare ownership, feel free to contact us for a free consultation.