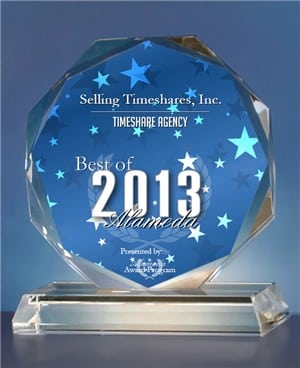 As a large name in timeshare resale, another great milestone has been marked for Selling Timeshares, Inc., who have received the 2013 Best of Alameda Award in the Timeshare Agency category by the Alameda Award Program. Selling Timeshares, Inc. has been expending an exhaustive amount of effort in increasing their footprint in the timeshare industry and assisting potential and existing customers to not only find the vacation property that best suits them, but also help them become better acquainted with the world of timeshares.
This is accomplished by sleek site designs, as well as a burgeoning amount of content and articles covering the most essential facets of the industry and some great vacationing tips. On top of that, the sales agents working for the company have built exceptional rapport with potential clients, boosting the reputation of the company as a whole.
The Alameda Award Program was created for the sake of recognizing upstart and growing businesses in Alameda County who have positively contributed to their respective business category, and to the local economy in general.
The Alameda Award Program's criteria for deciding a winner in their various categories involves local companies who have bolstered the image of their own business, but small businesses as a whole. This criteria can involve overall customer service and marketability which helps contribute to the business and it's local community.
About Selling Timeshares, Inc.
Selling Timeshares is comprised of a group of Licensed Real Estate Professionals with over 10 years of timeshare resale experience. The group possesses extensive knowledge of the most valuable vacation networks offered in today's market. They are a full service timeshare resale brokerage that does not charge any upfront fees, and offers free consultations with their licensed agents.