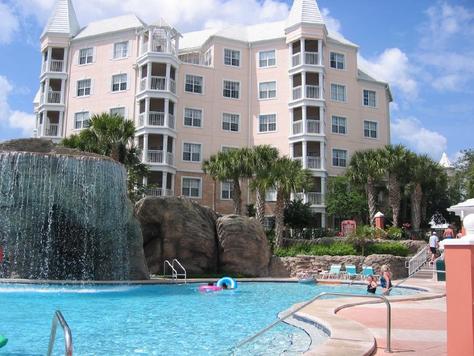 Resort Info
Carlsbad, California
5500 Grand Pacific Drive
Carlsbad, CA 92008
(760) 828-4520
Overview
Location
Hilton Grand Vacations Club at MarBrisa is a beautiful resort that stretches across seven miles of Southern California beaches and feature Spanish Mediterranean-styled villas. MarBrisa's property is located next to Legoland California and Sea Life Aquarium, in Carlsbad, CA, giving your family the utmost convenience and accessibility. Hilton's MarBrisa Resort is a part of the Hilton Grand Vacations Club, so if you already own a HGVC property or are looking to buy a timeshare for the first time, this location is a great start when looking for your next great vacation.
Deluxe Accommodations
No matter what the size of your family is, the one, two and three-bedroom villas can comfortably accommodate the crowd or couple. The villas provide a spacious area for your family to relax, cook or get ready for the day. The fully equipped kitchens are large enough to move around comfortably while preparing meals as well as having traffic coming in and out during the preparation. The open style living spaces will keep the chef in the loop during conversations and discussions. When it is time to leave, take the walking path from the villa to the direct access point to Legoland or Sea Life Aquarium. There's no traffic to fight or parking to find; just walk up and enter the park(s) when you want.
Hilton Grand Vacations Club
Although this resort seems top-heavy with family oriented and children friendly activities, this can also be a great location for couples. There is a large variety of bars and restaurants for the adults as well as daytime activities. If this location is still not for you, there are many more resorts and locations to chose from in the Hilton Grand Vacations Club inventory. At Sellingtimeshares.net, we have many resale properties available on our website.
Amenities
| | |
| --- | --- |
| •  Contemporary Designed Ocean View Pool in a Tropical Setting | •  On-site Full-Service Spa – Ocean Pearl Spa |
| •  Interactive Water-Play Pool Feature | •  Elevated Sunning Terraces |
| •  High-Speed Wireless Internet Access | •  On-site Fitness Center & Tennis Court |
| •  On-site Restaurant – Twenty/20 Grill | •  Coaster Cinemas Theater |
| •  Wine Bar | •  Picnic Area and Barbecue Grills |
Map
Points Chart
Platinum Weeks 22-42 & 51-52
Unit Size
Mon-Thurs
Fri-Sun
Full Week
Per Night
Per Night
Per Week
Studio / Studio Plus
350
700
3500
1 Bedroom
480
960
4800
1 Bedroom Plus
620
1240
6200
2 Bedroom
700
1400
7000
2 Bedroom Plus
840
1680
8400
2 Bedroom Plus Premier
960
1920
9600
3 Bedroom
840
1680
8400
3 Bedroom Plus
960
1920
9600
Gold Weeks 1-21 & 43-50
Unit Size
Mon-Thurs
Fri-Sun
Full Week
Per Night
Per Night
Per Week
Studio / Studio Plus
250
500
2500
1 Bedroom
340
680
3400
1 Bedroom Plus
420
840
4200
2 Bedroom
500
1000
5000
2 Bedroom Plus
580
1160
5800
2 Bedroom Plus Premier
700
1400
7000
3 Bedroom
580
1160
5800
3 Bedroom Plus
700
1400
7000
If Carlsbad, CA is not the destination for you, there are many other great Hilton Grand Vacation Club Resort locations.Hilton Resorts are also affiliated with multiple exchange companies, which offer thousands of resorts to trade with. Visit our Hilton Grand Vacation Club resale inventory section for a current list of inventory.