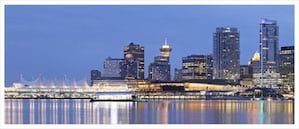 Resort Info
Vancouver, BC
1001 Hornby St #2951
Vancouver, BC V6Z 3A5, Canada
(435) 655-9000
Overview
Vancouver is known for it's beautiful natural attractions and landscape. More recently, Vancouver has become an emerging metropolitan area of chic sophistication as well as delightful hole-in-the-wall surprises. The downtown area has developed into a fun and entertaining area with bars and live music all around. But the natural beauty can still be seen and is consciously being maintained by the locals. This unique contrast of modern chic and natural beauty makes this one of the most interesting cities on the North American continent.
Stay in a Studio or one of 3 types of 1-bedroom suites. Visitors are close to practically every attraction in Vancouver while sitting atop the highest point in Vancouver. The Vacation Homes occupy three floors of the Wall Centre and offer stunning views from the roof. Or head down to the 29th Floor and enjoy the Vancouver Room, which is a members only lounge. No matter what your plans are, from enjoying your comfortable room the whole time or enjoying all of the natural splendor of Vancouver, every guest will have something to enjoy in and around this up and coming city.
Amenities
| | |
| --- | --- |
| • Studio or 1 Bedroom Suites | • In-Suite Kitchenette |
| • 3 floors of the Sheraton Wall Centre with Private Lounge | • Elevated Sunning Terraces |
| • High-Speed Wireless Internet Access | • On-site Fitness Center |
| • Newly developed and walkable downtown | • Vida Spa on-site |
| • Near Vancouver Aquarium | • Near Vancouver's Sea Wall |
If Vancouver, British Columbia is not the destination for you, there are many other great Club Intrawest Resort locations. Club Intrawest Resorts are also affiliated with multiple exchange companies, which offer thousands of resorts to trade with. Visit our Club Intrawest resale inventory section for a current list of inventory.