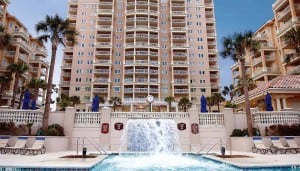 With over 60 miles of beach and 215 days a year of sunshine, Myrtle Beach is a fabulous East Coast destination for travelers, especially for the people lucky enough to be apart of the Marriott Vacation Club. Marriott's OceanWatch Villas has something to offer any itinerary, from world-class golf to some of the best seafood anywhere. So if you already own a Marriott vacation home and want to use your points to visit or perhaps buying for the first time, this is a beautiful destination for the entire family.
OceanWatch Villas Features
Whether you want to sneak away to one of the secluded whirlpool spas, or open up and hit one of the 100 local golf courses, there is something for everyone. With so many local options, you may only see your spacious two bedroom villa when you go to bed and wake-up.
OceanWatch Villas offer full kitchens, oversized soaking tubs and elegant dining areas allowing you to comfortably spend a romantic night in with that special someone. But if you decide not to cook for yourself or you decide to bring the kids along, that's no problem. There is a Marketplace and restaurants to grab some food or snacks, while the multi-level tree house, activity center and daily programs for kids of all ages will give your kids plenty of options and fun at OceanWatch Villas.
Marriott Vacation Club Collection
With over 50 Marriott Vacation Club options, there is no shortage of resorts to travel to and visit. OceanWatch Villas is one of nine resorts on the South Carolina coast. If you decided that it's time to visit a new location next year, you can trade the week for your Myrtle Beach location and exchange them for another location in Marriott's timeshare collection. This remarkably simple system allows you to trade in your week to visit Myrtle Beach or exchange your Myrtle Beach points to visit The Great Wall of China or bask in the sun on Kauai, Maui or Oahu.
Feel free to contact us for a free consult regarding Marriott's collection of resorts.