Similar to many vacation ownership programs, Marriott Vacation Club splits the 52 weeks of each year into seasons. Mainly, MVC's seasons are used for sales purposes to determine the price of weeks being sold based on expected sales demand of the weeks. As seasons are determined by sales demand of each week at the different resorts, seasons will vary from resort to resort. It is also important to note that Marriott Vacation Club's seasons do not necessarily coincide with Interval International's season designations. 
What Are Marriott's Seasons?
While this may seem like a simple question, Marriott actually uses several different families of names to describe seasons at their resorts around the globe. The different season names are as follows:

Platinum Holiday, Platinum Plus, Platinum (sometimes divided into Platinum Summer and Platinum Ski), Gold Holiday, Gold, Silver, Bonus Time, Bronze

Special, Summer, Sport, Value, Preferred

Red, Pink, White, Blue

Fixed weeks (e.g., Streamside and Maui Sequel). Most of the Platinum Plus and Platinum Holiday weeks are fixed weeks.
For example, the Monarch Resort at Hilton Head has Summer, Sport, Value and Preferred Seasons while the Grand Ocean has Platinum, Gold, Silver and Bronze seasons and in Las Vegas there is only one season, Platinum. To review the seasons at any Marriott Vacation Club Resort click the following link for MVC's Week Calendars.
Why Are Seasons Important?
Aside from being used to determine pricing, seasons will play a huge part in your future vacation bookings. As each resort has its own week or season calendar, when purchasing a Marriott Vacation Club week it is important to consider what time of year you'll likely want to travel. Once you know where and (approximately) when you'd like to travel then you can determine what season you should purchase.
If you're looking to purchase a timeshare on the resale market be sure to purchase the appropriate season for your travel needs. Resale listings should have the week's season clearly displayed on the listing details as shown below.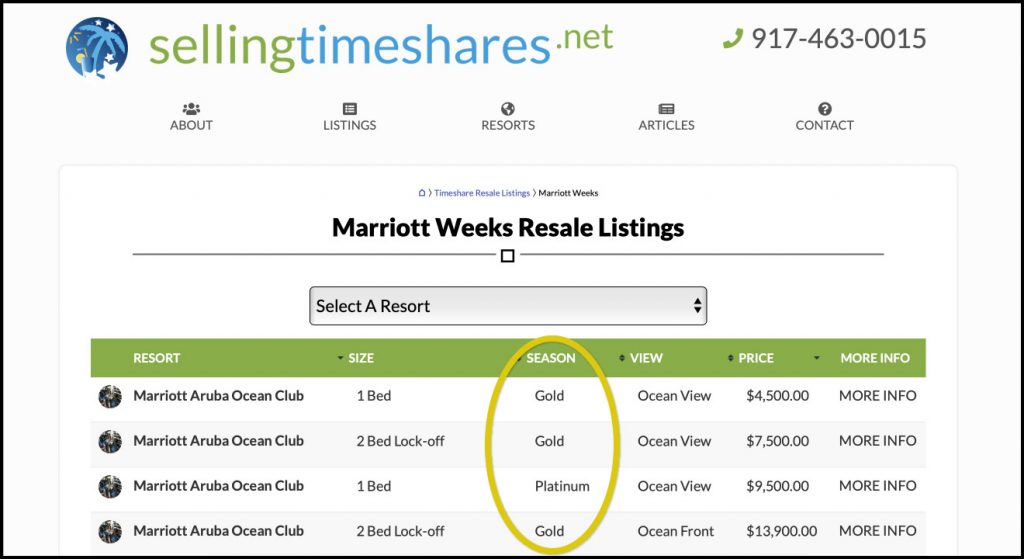 For more information on the different seasons at the various Marriott Vacation Club resorts around the world, visit our designated Marriott Vacation Club informational page which provides detailed information about each of MVC's resorts. You can also contact our knowledgeable Selling Timeshares representatives seven days a week with any questions at the following link, https://www.sellingtimeshares.net/contact/.