What's The Scope Of This Article?
This article is intended to provide factual information about the Marriott Vacation Club system. This article does not answer all questions, especially those that are subject to change often or frequently. Within this article, one will find the rules and explanations of Marriott's policies, rules and fees to date.
This information is variable and can be subject to change by Marriott. It is important to consult Marriott, and the TUG forums, in addition to this article to verify information contained in this document herein. None of us are current or former employees of Marriott or any of Marriott's affiliates, nor have we been provided with any compensation for writing this article.
What Is Marriott Vacation Club?
Marriott Vacations Worldwide Corporation, formerly known as Marriott Vacation Club International was established in 1984 as a public timeshare company.
In 2011, Marriott Vacations Worldwide was established as a separate entity from Marriott International, Inc. Marriott Vacations Worldwide seeks to be the preferred provider of vacation ownership and personalized vacation experiences through their three brands: Marriott Vacation Club, The Ritz-Carlton Destination Club, and Grand Residences by Marriott.
Resorts in Marriott Vacation Club
To date, Marriott Vacation Club has over 56 Resorts in Marriott Vacation Club collection. Marriott gives their Vacation Club members access to the Marriott Collection which includes Marriott® Hotels & Resorts, JW Marriott® Hotels & Resorts, Courtyard® by Marriott, Renaissance® Hotels & Resorts, and other Marriott hotel brands.
Marriott's Explorer Collection and World Traveler Collection offer members alternative vacation choices such as cruises, guided tour vacations, non-Marriott affiliated reservations and more. More information can be found at the Marriott Vacation Club website.
Introduction to the Marriott Vacation Club Programs
Marriott Vacation Club owners can be apart of one or both club programs, which are: Marriott Destinations Club Points Program and Marriott Vacation Club Weeks System. Each program has a separate set of rules and benefits for their owners.
As of December, 2012, the only program that Marriott sells as developer-direct retail is the MVC Destinations Club. Although there are some overlap, in rules and privileges, between the two programs, this document will cover each program independently to ensure clarity.
Marriott Vacation Club Destinations Points Program
Introduction of Destinations
On June 20, 2010, Marriott introduced a new points-based program called, Marriott Vacation Club Destinations. This program is also referred as "MVCD," MVC Destinations" or "DC." Marriott ceased retail sales of developer-direct MVCI Weeks for all of their US resorts and sales locations and implemented the DC program in its place.
Developer-direct MVCI Weeks were continued to be sold at Caribbean and European resorts for about the next two years. June 18, 212, Marriott began offering the Destinations Enrollment, on a limited basis, at European resorts. Caribbean Resorts stopped retail sales of MVCI weeks at their resorts on December 27, 2012 and MVCD became exclusively the developer-direct retail sales.
Marriott Vacation Club Destinations
The Destinations program is based on a points-based trust, which allows customers to purchase points in Beneficial Interests (BI) point increments. This purchase of Trust Points gives the owner an annual allotment of Vacation Club Points that can be used on a variety of vacation options through Marriott Vacation Club.
DC Trust Points are sold on a price per point basis. The base price of each point is subject to change and has seen several small price increases since the program's introduction in 2010.
The BI purchase of DC Trust Points gives the owner a percentage ownership of the overall trust rather than a deeded ownership of a week at a specific resort. Being apart of a trust gives owners the opportunity to reserve a stay at any resort in the Marriott Vacation Club collection without the need to trade or exchange. Members may add MVC points at any time.
Marriott Vacation Club Destinations members can be within various ownership levels: Owner, Select, Executive, Presidential and Chairman's Club. Each level is based on amount of points owned and with more points, owners have access to more benefits. You can see the details of each set of benefits of destinations club levels by clicking the link.
Dues and Fees
Owners must pay yearly Club Dues to keep their membership in good standing. Maintenance Fees are yearly fees based on the number of BI's owned by a member. Each BI (250 points) is charged $112.50 or $0.45/point.*
Dues and fee go towards the operation and maintenance of Marriott and the resorts in the MVC collection. These also cover the Interval International corporate account membership and a majority of the fees. This is the account that you will use to exchange your DC points for stays at other Marriott resorts as well as non-Marriott clubs and resorts.
*These dues are subject to change through time
Making Reservations
When making a reservation with your DC points, the amount of points needed to make a reservation at a resort in the MVC collection are based on accommodation size, length of stay, location and season. Owners have the option of making reservations over the phone or online. The reservation window starts at 9 A.M. Eastern Standard Time either 13 or 12 months prior to the first check-in date of that week. Some resorts have multiple available check-in days and select resorts have only one check-in day per week. Marriott has an Inventory Release Calendar page that will give you the exact check-in dates for your desired resort.
The reservation windows based on membership status goes as follows:
13 months
Premier Plus Members booking one or more nights

Premier Members booking seven nights or more

Standard Members booking seven nights or more, with an additional 20% Points premium
12 months
Standard Members booking seven nights or more, without Points premium

All Members requesting waitlist reservations of seven nights or more
10 months
Premier and Standard Members booking one night or more

All Members requesting waitlist reservations of less than seven nights
60-days
All Members are restricted to reservations within 60 days of check-in when using Holding Account Points
Waitlist requests may be made for unavailable intervals by members if they have the correct amount of Trust Points available and they are within the correct reservation window. Banked and/or borrowed Points can be used for waitlist requests but if the request is denied or cancelled, those points will remain in their designated Use Year. Owners that are not in good standing or are over 10 days late on any dues or fees, are subject to Marriott cancelling their pending waitlist request. Marriott may also limit the number of accepted waitlist requests on any given interval. Any confirmed waitlist requests will have 48 hours from notification to cancel.
Cancellations with at least 61 days prior to the check-in date will result in the member's points to be returned to the account without any restrictions and full use rights available. If a reservation is cancelled within 60 days of check-in, the points are retained in a holding account with restrictions on their usage.
Use Year
Owners who purchased DC Trust Points, directly from Marriott, will have a rolling Use Year starting the first of the next month after the purchase closes. Prior to the contract being written, owners pay request an alternate Use Year based on existing ownerships and to align with usage rules that may have a specific use pattern. At the end of the Use Year, the Trust Points expire if they are not banked, converted, rolled over to the next Use Year or transferred.
Transferred Trust Points may be done in 25 points increments with another DC member who is within good standing with Marriott. There is no limit to the number of transfers a member can make. The Trust Points that are transferred, retain their Use Year and may not be banked, rolled over or transferred again.  
Destinations Points may only be banked within 12 to 6 months prior to the immediately following Use Year. They cannot be borrowed or transferred back into the current Use Year and will expire at the end of Use Year in which they were banked.
Borrowing Trust Points may take place within 25 months of the first day of the Use Year in which the owner is borrowing and may only be borrowed into the Use Year directly preceding it. Borrowed points may not be borrowed, transferred or banked back into the following Use Year.
The Use Year of the Destinations Club Trust Points cannot be changed from what is stipulated in the deed, by the original purchaser or if/when the deed is resold or transferred.
Marriott Vacation Club Weeks Program
Introduction of Weeks Program
Marriott introduced Marriott Vacation Club International in 1984 and is a timeshare industry leader. Their week-based deeded ownerships has been their primary product until June of 2010 where Marriott introduced a new timeshare product as their developer-direct retail option. However, the old product did not disappear and is still being bought and sold on the resale market.
Marriott Vacation Club Legacy Weeks
The MVC Weeks Program are deeded week-based ownerships that are sold based on the size of the unit, season, and resort. The deed give owners use of their purchase, home resort, during their specific Use Years. Ownership of your deed is guaranteed for life pending that all maintenance fees (MF) and dues are paid and up-to-date.
Dues and Fees
Marriott Vacation Club owners must pay annual maintenance fees and other related fees associated with the use of MVC. Below is how your maintenance fee will look when you receive it. Maintenance fees are based on the resort and unit size, however property taxes are based on the value of the property and the season of your home week affects the amount of taxes placed on your annual fees.
The breakdown of fees would look like:
– Resort Name/Unit Type
– Operating Fee
– Replacement Reserve
– Property Taxes (or note if they're billed separately)
– Developer Subsidy (where it exists)
– Special Assessment (where it exists)
___________________________________
– TOTAL
Maintenance fees are annual and must be paid for the owner to have use of home week(s). Other fees do exist when owners use their week(s) and corresponding point allocation for a use other than the Home Week reservation. 
Selected fees include, but are not limited to:
Exchange use of week for Marriott Rewards Points (RP)

Right of First Refusal waiver fee

Cancel or change a Marriott reservation (may not be cancelled within 60 days of check-in)

Split Week option (at resorts allowing single-night stays)

One charge for first stay

One charge for each subsequent stay

Transfer of ownership

Resale

Ownership transfer

Using the separate parts of a divided lock-off
Split Week Usage
Certain Marriott Vacation Club resorts offer Split week usage. Splitting your week into a 3-day and a 4-day vacation is subject to a fee and availability.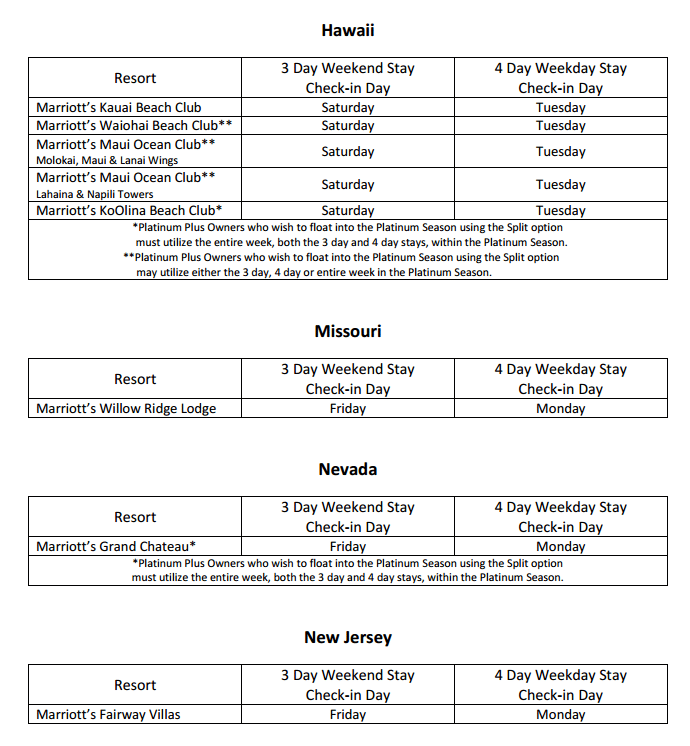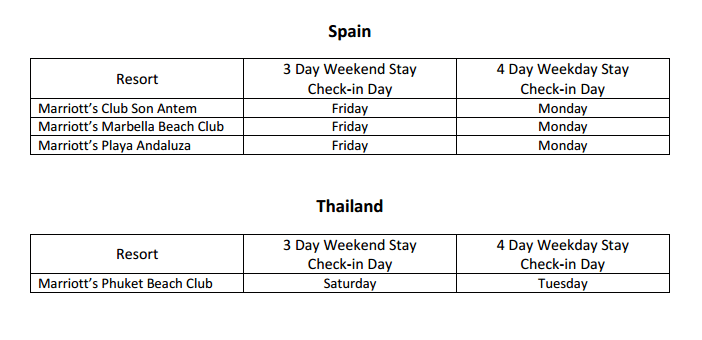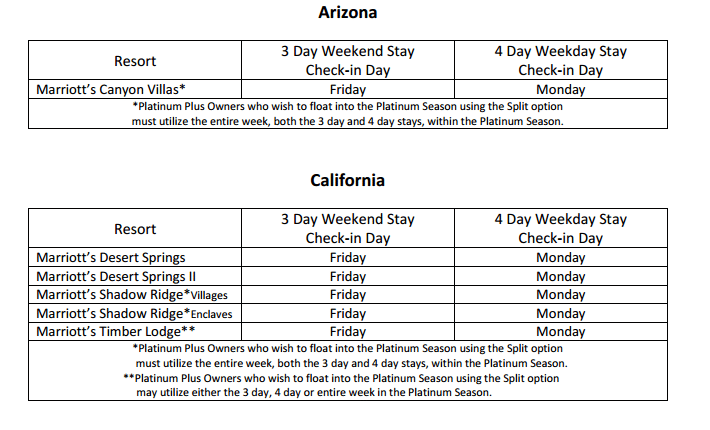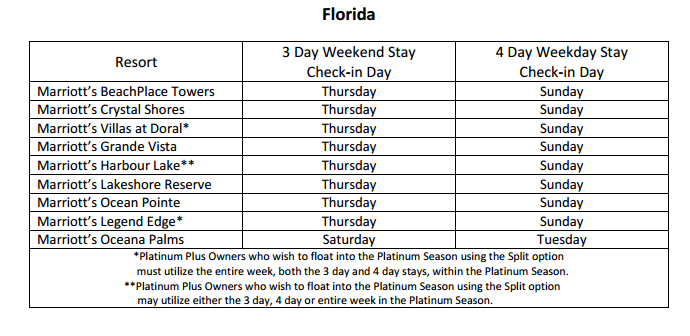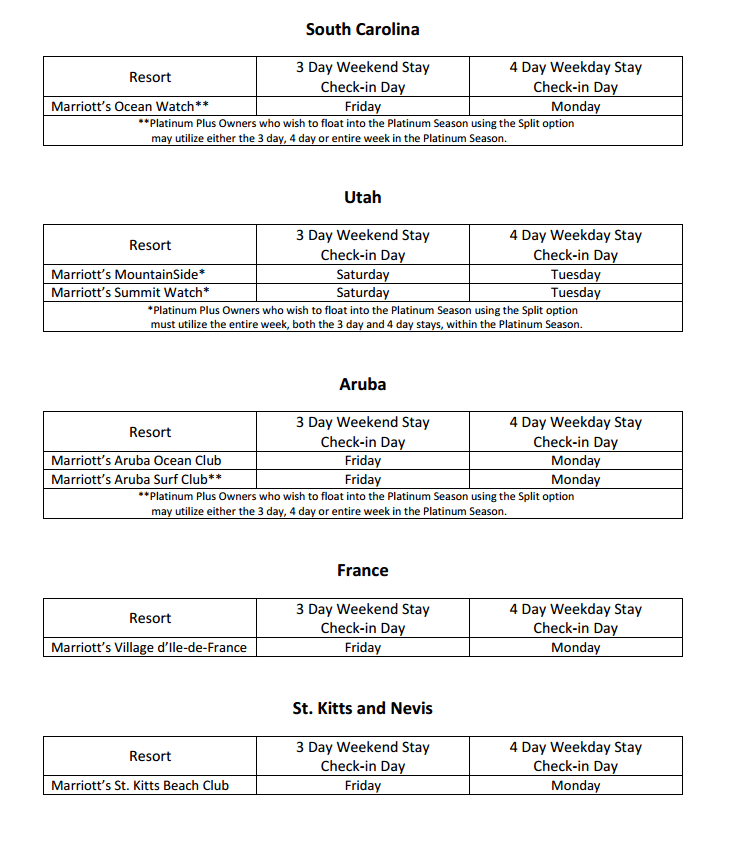 Seasons
Marriott Vacation Club has divided the yearly calendar of each resort and have labeled specific weeks into seasons. These seasons are based on Marriott's anticipation for the sales demand of that particular week. This demand varies based on resort, however, the seasons describe the same level of demand no matter which resort uses the season label. 
The seasons go as follows and are in order of highest demand to lowest:
Platinum Holiday, Platinum Plus, Platinum (sometimes divided into Platinum Summer and Platinum Ski), Gold Holiday, Gold, Silver, Bonus Time, Bronze

Special, Summer, Sport, Value, Preferred

Red, Pink, White, Blue

Fixed weeks (e.g., Streamside and Maui Sequel). Most of the Platinum Plus and Platinum Holiday weeks are fixed weeks.
A vast majority of resorts use the platinum season system but not all resorts use other seasons such as Holiday or Ski seasons
Marriott Rewards
Marriott Rewards is a loyalty program that awards points as a type of currency that you can use for hotel stays, airline tickets and many other purchases. After your purchase of a timeshare from Marriott, owners, when traveling or using the Marriott Rewards Visa card, are rewarded with points and exclusive membership privileges.
Conclusion
Marriott Vacation Club is one of the most popular choices on the resale market for very good reason. Not only is the value of legacy weeks very desirable, but also the flexibility of Destination Club Points are an attractive proposition for those looking to travel to many different destinations without the use and costs of exchange networks. If you would like more information regarding Marriott Vacation Club, feel free to contact us by filling out an online form. We will have one of our licensed agents that specialize in Marriott resale reach out to you.