Learn how to keep all benefits of buying a travelshare qualified account from Wyndham, without paying retail price.
Selling Timeshares, Inc. has developed the exclusive WM Explorer Club; a superior alternative to Wyndham's TravelShare program. It gives you the most benefits available to any WorldMark owner, and there are no recurring fees like TravelShare! Were you told you had to buy at a retail presentation to have all the same benefits as other owners? Perhaps you've longed to buy, but feared missing out on benefits offered only to those who pay TravelShare dues. Look no further, the WM Explorer Club will do it all!
WM Explorer Club Benefits
-Exchange Services- 
2 Years Diamond Membership with SFX Preferred Resorts ($600+ Value): SFX helps you to plan and arrange for those times when you want to travel to another destination or during a different time. Their quality resort network gives you the connections you need to make a great vacation exchange.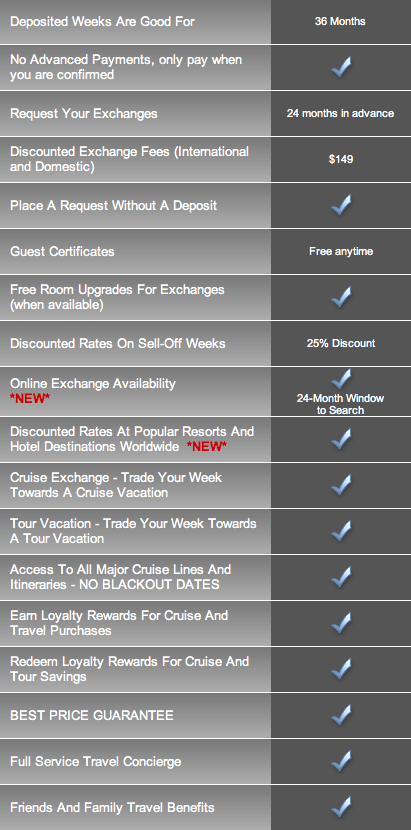 –Discounts for Purchasing Resale Ownerships-
Free Closing Costs: on any WorldMark Ownership Purchase (up to 2 per year)
Perpetual Transfer Fee Discount: $149 off the $299 Wyndham Transfer Fee (up to 2 per year) for upgrades of 6,000 Annual credits or more, also good for our WM Explorer Club resale partners SmartShare, CashOutATimeshare.com or RPMI (partners subject to change).
-Discounts for Extra Vacations-
20% Off Supplemental WorldMark Credits, also known as One Time Use Credits or Fax Credits: Want to take an extra vacation or book something for a friend or loved one? Buy extra credits to book that trip or to enjoy better availability than Bonus Time, Inventory Specials or Monday Madness. Extra credits can be deposited into your existing account and can be booked 13 months in advance just like your normal vacation points.
20% Off Housekeeping Tokens: Now you can book using your Supplemental WorldMark Credits and not pay housekeeping based on unit size. Save money on any unit 1 bedroom or larger.
-Gifts and Perks-
Free Supplemental Credits: Two vouchers good for 1,000 one time use credits each. Redeemable between 1-3 years and 3-5 years.
Bonus Week Voucher (redemption fee): Studio ($299) or 1 Bedroom ($499) in Mexico; or 1 Domestic Week ($599).
Referral Benefits: Refer a friend or family member and receive 2,500 Extra Vacation Credits as our gift.
-Satisfaction Guarantee- 
Should you for any reason feel WorldMark wouldn't work for your lifestyle, you won't have to worry! Selling Timeshares, Inc. will help you sell your timeshare for absolutely zero commission. We, or one of our trusted WM Explorer Club partners will purchase your WorldMark Ownership directly from you. A guaranteed resale ensures you've got nothing to lose! For more information, feel free to 

contact us

, and we are more than happy to offer a free consultation with one of our agents.
Disclaimer: Membership is a 5 year program provided exclusively by Selling Timeshares, Inc. Benefits subject to change with written notice 90 days prior.