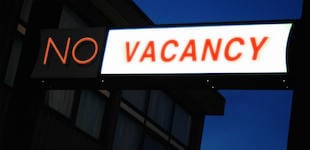 Looking for hotels seems like a natural part of the travel process. For someone who travels each year, the costs can add up and you'll find yourself spending a great deal of money on your lodging alone.
By considering how to travel without staying in a hotel, you may find yourself saving some extra cash to allot into your travel budget.
Cost
When comparing the cost of hotels to other hospitality options, you may consider the high cost and limited flexibility of a vacation home on one end of the spectrum, or possibly staying in a hostel at the other end of the spectrum. What about a balance of ownership and amenities? Modern points-based timeshares offer the flexibility of going to thousands of resorts and annual maintenance costs for as low as $500 per year. You may be able to find a hotel for cheaper, but you'll only be staying a few nights. Not to mention, your own private timeshare condo with full kitchen and in-suite laundry is nothing like a Motel 6.
Amenities
One thing to consider for the avid traveler is the amenities that your stay will provide. While hotels have room service, or have fast food closeby, this creates poor dietary habits during your travels and detracts from the positive health benefits that regular travel can provide. With timeshare ownership, your travel remains conducive to healthy choices by having a full kitchen at your disposal, silverware and all. It is difficult to beat the amenities packed into the majority of resorts without purchasing and filling a vacation home, which is a sizable cost in itself. Full laundry units also occupy most resorts, so you can be sure to keep a full wardrobe and look your best for when you visit the attractions near your resort.
Availability
While hotels may be located just about everywhere, you have to constantly worry about room availability, whether it be the size of the room, proximity to attractions or just that there are any rooms available at all. This can create a headache in the long run, as it is an additional step to your travel planning that is able to be avoided. Not to mention, if you need the privacy of multiple rooms or maybe enough room for a family reunion, good luck finding that in a hotel.
Traveling should always be an enjoyable experience, so keeping your vacation affordable yet robust is a necessity. With timeshare ownership, you can avoid overpaying for hotels and start traveling in the luxurious comfort you didn't know you could afford. If you have any additional questions, feel free to contact us.