A testament to the fact that Hilton New York is situated among the most sought-after attractions…
Situated in New York's Broadway and Times Square neighborhood, this hotel is close to Carnegie Hall, Rockefeller Center, and Broadway. Area attractions also include Museum of Modern Art and Ed Sullivan Theater. You are near subway stops for a few different lines if you feel up to exploring the city.
Hilton New York offers a great mid-town Manhattan location near the theater district; close to Central Park; walking distant to awesome shopping opportunities and nice restaurants.
The rooms are extremely well appointed with flat screen, DVD, surround sound, nice work area and refrigerator (not all rooms have these).  All rooms share a contemporary look and the property is clean, both beautiful and functional. Service, as you have come to expect from Hilton, is unparalleled. There is not a restaurant in building, but there are many restaurant choices within a short walk or taxi ride. This timeshare property does however feature a lounge that serves your favorite drinks. This reviewer was able to get a room on a higher floor, so no hustle and bustle was heard from the busy city below.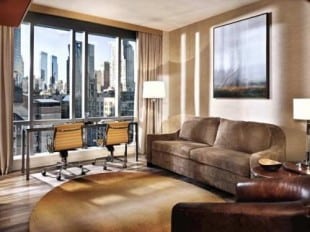 You'll love being so close to Central Park and to so many cultural venues and restaurants and attractions. I was able to visit Carnegie Hall with just a walk, and was introduced to a well-known restaurant, The Russian Team Room, while the prices were high, the service and presentation of the food made it well worth it. New Yorkers have become exceeding efficient at taking the mundane experience of everyday life, and transforming it into a tranquil, luxurious experience.
For example, within a short 10-minute walk, we stumbled upon Zenthea, a luxurious, spa-like dental office. Aromatherapy scents filled the air, while soothing music played.This reviewer welcomed sitting in a massage chair while getting my teeth cleaned, why shouldn't the best dental care include a little pampering? It was a dental experience I would wish upon anyone.
You won't find this level of refinement back home, and it is a testament to the fact that Hilton New York is situated among the most sought-after amenities and attractions. If you are lucky enough to be a Hilton owner, especially at this resort, you will definitely enjoy coming back year after year.