When booking your Hilton property, you will almost always need to book using your allocated points, so knowing what each resort costs in Hilton Club Points can be an enormous help. Within this article we will go over the basic outline of Hilton Grand Vacations Club points charts and how better understanding them will help you in the long run.

What are Points Charts?
Points charts are documents listing what each resort costs at different times of the year, for either a daily rate or a weekly rate. Each property has it's own exclusive points chart catering to its worth, and you can find the full listing of them here. These will detail not only a daily and weekly rate for each property during different weeks of the year, but will also divide the weeks up based on if they fall under Gold or Platinum weeks. This way the information is mapped out for you and it makes checking the cost a streamlined process.
How Do They Help Me?
When choosing to book your vacation or when you're choosing which home resort location to purchase, you are able to reference the points chart to verify just how many points you will need to purchase to comfortably vacation each year. This is also a good tool for times you choose to take advantage of other features of your points, such as depositing or borrowing, as you can look towards more desirable properties with which you may not have the same familiarity. Points charts are a necessary and easy to understand feature for timeshare owners at any stage of their ownership.
Example Chart
Click the image below to go to the HGVC points charts page that lists charts for all the Hilton properties.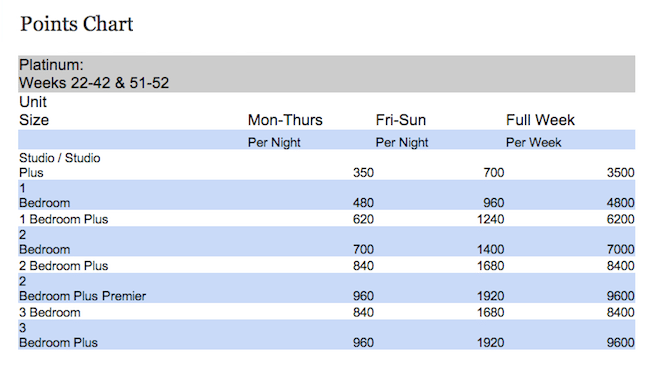 With this additional knowledge of Hilton's point charts you can be more familiar with points costs and have access to information that will benefit you in your future vacation plans. If you have any additional questions on Hilton's points charts, feel free to contact us to speak with a licensed agent.