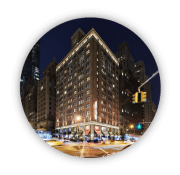 Hilton Grand Vacations Inc. announces it has acquired the Quin, which will be its fourth property in New York City. HGV purchased the 17-story property with plans to convert the existing 208 hotel rooms into 212 studios and one- and two-bedroom timeshare units.
"We are excited to announce the acquisition of the Quin, our fourth property in New York City and an important milestone in our 2018 inventory investment program," says Mark Wang, president and CEO of Hilton Grand Vacations. "Adding high-quality properties in desirable destinations is a key component in advancing our strategic priorities."
Midtown Manhattan Resort Location
The Quin, a well-known luxury lifestyle hotel in Midtown Manhattan, is located near Broadway, Carnegie Hall and Times Square, with views of Central Park. It once housed the century's greatest artists, including Ignacy Jan Paderewski, Georgia O'Keeffe and Marc Chagall. Resort amenities are expected to include a private owners' lounge, fitness center and restaurant.
Purchasing the Quin is part of HGV expanding its portfolio of urban vacation options available to Club Members. The Residences by Hilton Club opened in June 2018. Previously, HGV opened two properties in Manhattan, including The Hilton Club – New York in 2002 and West 57th Street by Hilton Club in 2009, which was the first purpose-built timeshare property ever constructed in New York City.
HGV has entered into an agreement with the current management company while the property is being fully transitioned to HGV's resort management and operations. The property will remain open during all phases of transition, and sales are anticipated to begin by the fourth quarter of 2019. HGV purchased the Quin for $175 million.
Hotel Highlights:

Icon of the Arts and Crafts movement that once played host to Georgia O'Keeffe, Marc Chagall and Ignacy Jan Paderewski
Rooms blend original architecture with avant-garde design, some featuring indulgent spa products and rain showers
Restaurant designed by Meyer Davis with clubroom bar on the second floor
The Quin – Luxury Hotel In New York City
The Quintessential New York Hotel with a privileged location in Midtown Manhattan
With a prime location only moments from Central Park, the Lincoln Center, Carnegie Hall and Fifth Avenue, the Quin offers you instant access to the mesmerising world of Manhattan and all of the exhilarating experiences the city has to offer.
Each one of the 208 rooms and suites at the Quin hotel has an air of sophistication. Thoughtfully designed to combine timeless luxury with modern convenience, they are stylishly decorated and provide bespoke built-in furnishings, complimentary internet access, stress-free bedside touch-screen controls and a personal Nespresso machine.
Take a look around the Quin's art collection, showcasing works of art by Blek le Rat and Wulf Treu, among others. Then take the short walk to Fifth Avenue for a spot of shopping in the designer boutiques and visit the refreshing green spaces of Central Park just a few steps from the hotel. Or ask one of the hotel's QA concierges to put together a one-of-a-kind itinerary. Be it insider access to events at Lincoln Center, dining reservations at New York's most sought after restaurants or premier seating at New York Fashion week. In the evening, be sure to dine in the hotel restaurant before going to a show or concert.