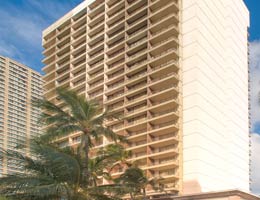 Resort Overview

:
Honolulu, Hawaii
440 Olohana Street
Honolulu, HI 96815
808-943-0202

Wyndham Vacation Resorts Royal Garden at Waikiki is situated on the island of O'ahu. The location is just 5 minutes away from world-famous Waikiki Beach. The area was a retreat for Hawaiian royalty in the 1800s who enjoyed surfing there on early forms of longboards. The Waikīkī skyline is now dotted with an abundance of both high-rises and resort hotels. Use the resort as your landing base for discovering the unique area's attractions and amenities. Explore the beach, tee off on the golf course, enjoy luxurious shopping and dining choices.
Resort amenities include 2 outdoor swimming pools, clubhouse, outdoor hot tub, tennis court, and laundry facilities.
Area activities include beach, day spa, boating, shopping, live entertainment, hiking, jet skiing, golfing, surfing, fishing, windsurfing, scuba, snorkeling, horseback riding, parasailing and many nearby restaurants.
If Honolulu, Hawaii is not the destination for you, Club Wyndham has many other great locations. Wyndham Resorts are also affiliated with RCI Exchange, which offers thousands of resorts to trade with.
Visit our Club Wyndham resale inventory section for a current list of inventory.
————–
Contact Selling Timeshares, Inc. for more information about buying or selling Westin Timeshares, Fairfield by Club Wyndham Points, HGVC Points, Disney Vacation Club, Hyatt Timeshares, Marriott Timeshares, Club Intrawest Points, Royal Resorts and WorldMark Credits on the resale market.