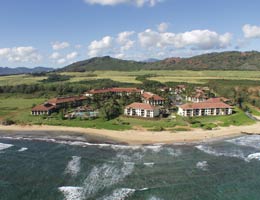 Club Wyndham: Kaua'i Beach Villas
4330 Kaua`i Beach Drive
Lihue, Kaua`i, HI 96766
808-241-1000
Wyndham Kaua'i Beach Villas, located just a few minutes from Kaua'i's main airport and just north of Lihue, the island's largest city. The resort sits right on the magnificent "Coconut Coast" shoreline. Enjoy the privacy of our beachfront resort, while being minutes away from world-class golf, fine dining, quaint towns and sightseeing pleasures. It's a vacation designed to delight the most discriminating traveler.
Resort amenities include 2 outdoor swimming pools, clubhouse, outdoor hot tub, tennis court, and laundry facilities.
Area activities include beach, day spa, boating, shopping, live entertainment, hiking, jet skiing, golfing, surfing, fishing, windsurfing, scuba, snorkeling, horseback riding, parasailing and many nearby restaurants.
If Lihue, Hawaii is not the destination for you, Club Wyndham has many other great locations. Wyndham Resorts are also affiliated with RCI Exchange, which offers thousands of resorts to trade with.
Visit our Club Wyndham resale inventory section for a current list of inventory.
————–
Contact Selling Timeshares, Inc. for more information about buying or selling Westin Timeshares, Fairfield by Club Wyndham Points, HGVC Points, Disney Vacation Club, Hyatt Timeshares, Marriott Timeshares, Club Intrawest Points, Royal Resorts and WorldMark Credits on the resale market.